 Gain a complete overview of the Cloud IAM Solution
Say goodbye to insecure and cumbersome login and authentication processes with Bare.ID Cloud IAM. Your solution for effortlessly mastering the balancing act between security, user-friendliness, and data protection.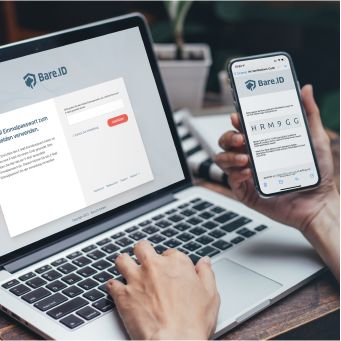 Choose the Right Multi-Factor Authentication to Suit Your Needs
Select from a wide range of integrated modern authentication methods, from OTP procedures to highly secure hardware tokens following WebAuthN standards, as well as innovative passwordless login options

Stay safe and flexible with our user-friendly multi-factor authentication, which can be easily activated on-demand for all users via the Bare.ID admin interface

Effectively combat social engineering and phishing attacks, leaving no room for identity theft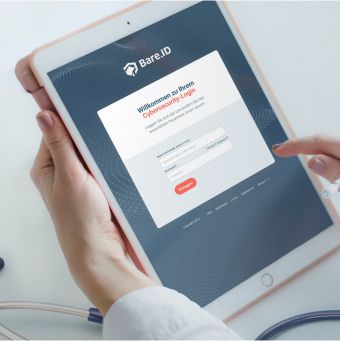 Convenient access for your users via single sign-on
Our user-friendly Single Sign-On allows authorized users seamless access to all necessary connected applications

Role-Based Application Access controls and governs application access right from the login process

Built on secure standard protocols such as OpenID Connect, OAuth 2.0, SAML, and others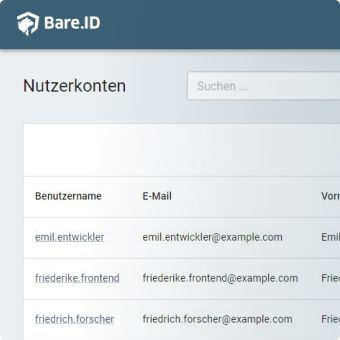 Modern User Management tailored to your needs
Manage users centrally and flexibly via Bare.ID's local user directory or through connected external sources

Experience lightning-fast management of all access permissions as well as the revocation of accounts & authorizations via the Bare.ID admin interface

Implement individually definable security measures such as password policies and multi-factor authentication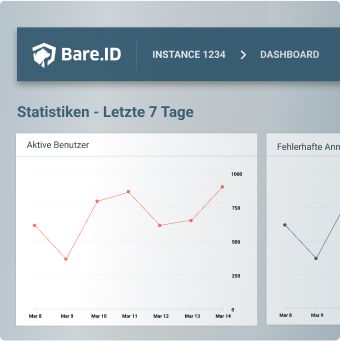 Maintain complete oversight over all processes at all times
View all digital identities, applications, and accesses at a glance in the Bare.ID admin interface

Comprehensive overview of all access permissions, including the basis for authorization

Achieve full transparency and be optimally prepared for reporting & audits, thanks to role-based access control, audit logs, and event alerts
The flexible all-in-one solution for secure login
High availability
Operated by DevOps experts, we rely on multi-node operation, guarantee 99.9% availability, and can offer our solution in compliance with CRITIS regulations through geo-redundancy.
User directory
Whether local Bare.ID user directory, your Active Directory, external identity providers or Rest APIs, you determine your source for users and rights.
Application Gallery
Easily connect applications for authentication with our preconfigured application gallery. Are you missing a required application? We integrate it quickly and free of charge.
Certificates
We offer secure encryption with Let's Ecnrypt certificates. Alternatively, there is also the possibility to upload your own TLS certificates.
No vendor lock-in
Full Flexibility to Ensure Easy Vendor Switching. We use the open-source IAM framework Keycloak at the core, thereby enabling simple data portability.
White label
If needed, you can easily hide who is hosting the login with our white-label templates. Configure your user interface, emails, and SMS easily by yourself.
Security and sovereignty for your data
German data sovereignty, German legal jurisdiction, and adherence to the strictest compliance & GDPR guidelines are the DNA of our solution. With Bare.ID, you are on the safe side when it comes to protecting your data from unauthorized access and complying with European or German regulations.
Made in Germany
Hosting, development, and operations are carried out exclusively in and from Germany. All partners involved in service delivery also operate according to the highest security standards and exclusively within the territory of Germany.
Digital sovereignty
Your data never reaches third countries, and in addition to the production location, legal control also remains in Germany at all times. Use Bare.ID with peace of mind, as it is 100% GDPR-compliant and even meets CRITIS guidelines.
Compliance
Bare.ID complies with BSI guidelines as well as industry-specific and legal requirements. The standard configuration is inherently compliant and therefore also usable in highly regulated industries.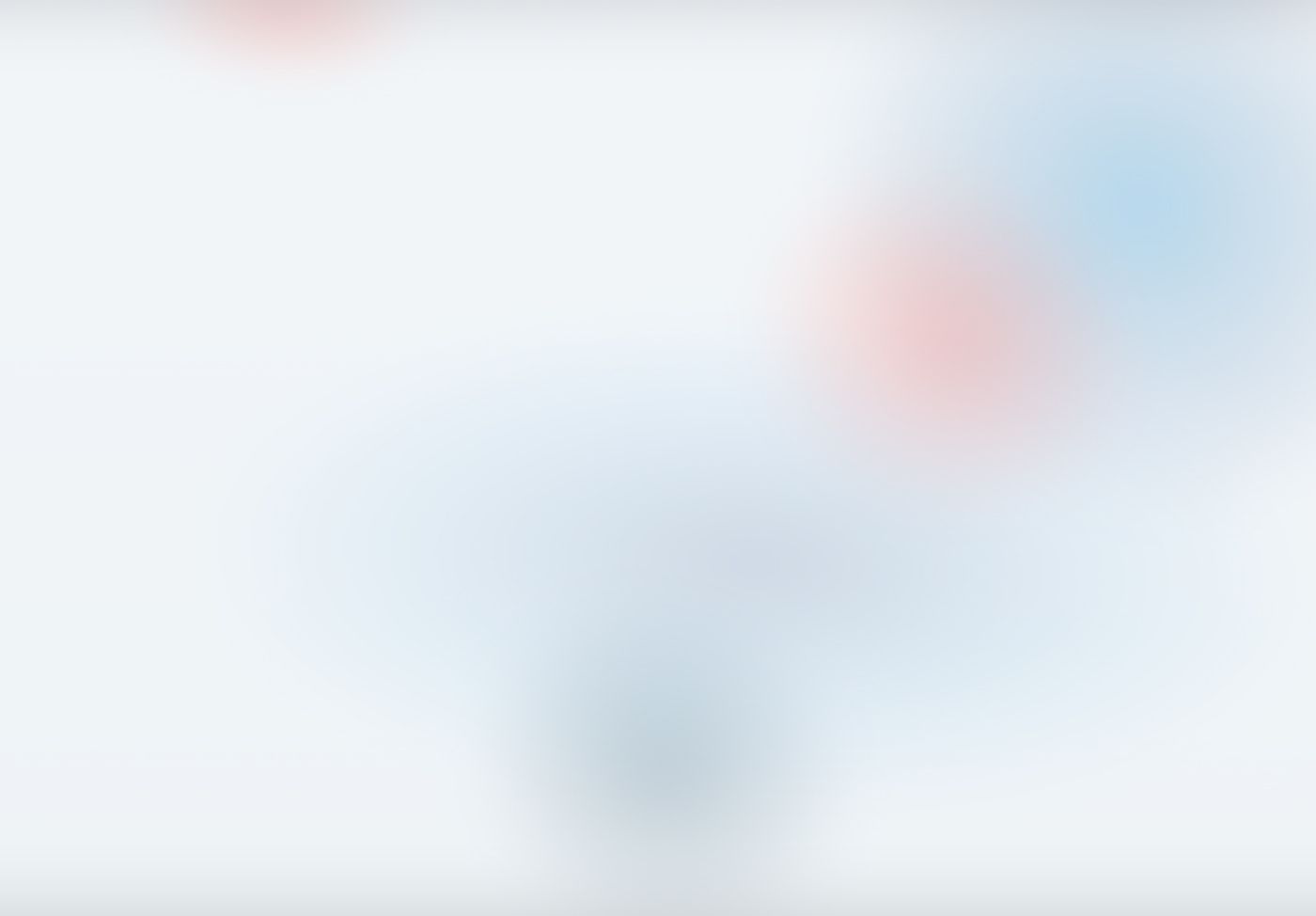 Applications Gallery
Compatible with all your required applications
Save yourself the technical overhead: With our pre-configured application gallery, you can easily connect all the applications you need with just a few clicks. Is a solution missing? No problem, Bare.ID support will quickly and freely integrate any additional required applications, sparing you the hassle of further integration efforts. The perfect fit for your industry
Thanks to our standard configuration, set up to be compliant with legal security requirements, Bare.ID can be securely implemented across various industries. This makes our solution the right choice even for heavily regulated sectors with specialized requirements.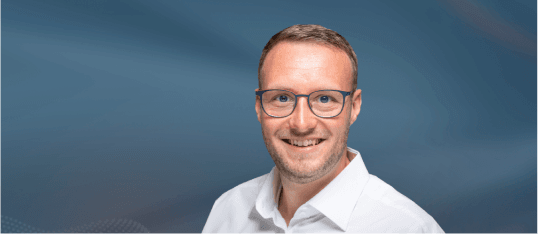 Get in touch
Request a non-binding consultation now and discover how Bare.ID can be integrated into your IT environment.
---
Bare.ID represents user-friendly Identity & Access Management in the cloud. With Bare.ID, digital business processes and applications can be connected to a local user directory, benefiting from centralized security and Single Sign-On. Whether On-Premise, Hybrid, or Cloud, Bare.ID offers a multitude of pre-configured integrations. 100% security, Made in Germany.
Bare.ID's offerings are exclusively intended for business customers in accordance with §14 BGB. All prices are to be understood as net prices, plus applicable VAT at the time of billing.
Bare.ID is a product and registered trademark of Bare.ID GmbH - an AOE Group company © 2023 - All rights reserved.