[SOFTWARE COMPARISON]
Comparison Auth0 vs. Bare.ID - the Auth0 Alternative
Which SaaS provider is right for my use case in the context of German security requirements?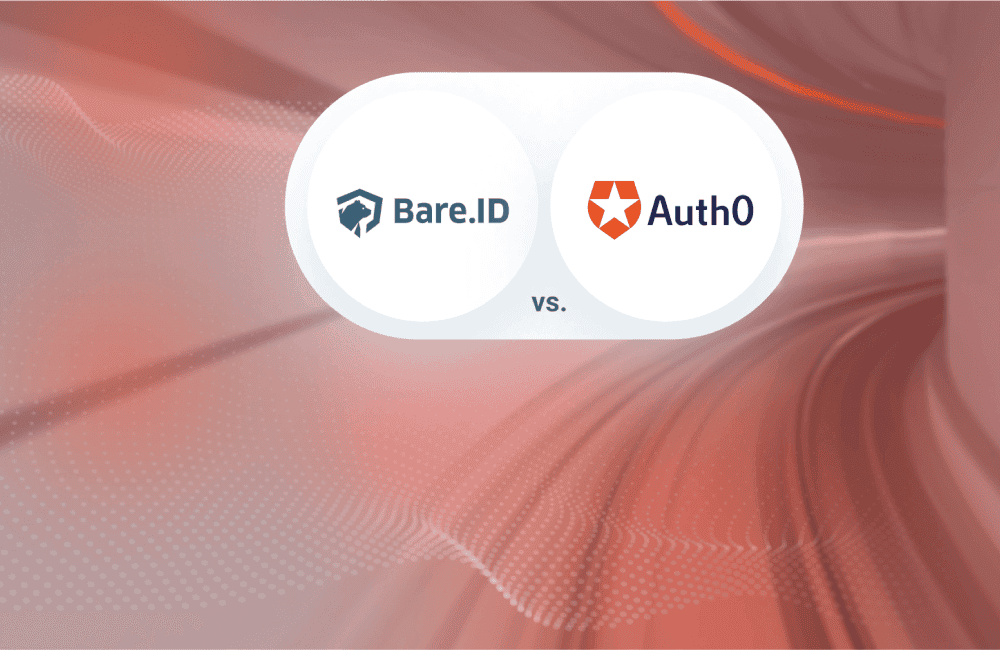 IAM SaaS solutions such as Auth0 and Bare.ID have the advantage that operation, hosting, and development are taken over by the provider, so that the customer does not incur any expense for independent operation and the integration of security updates. Depending on the scope of services required, the costs of an SaaS solution are also affordable for SMEs by eliminating the need for additional resources and are significantly lower than comparable on-premise licensing models.
Auth0 (since 2021: part of Okta) is one of the leading US providers for identity and access management in the cloud and offers a similar range of functions as Bare.ID. Both SaaS providers help companies secure their login and authentication processes while increasing usability via single sign-on. Since digital sovereignty plays a major role, especially in the cloud environment, Auth0, as a U.S. provider, must be classified as risky in the context of German security requirements, however. The extent to which server locations play a role and Bare.ID otherwise differs from Auth0 is explained further below:
Hosting & Operation
Auth0, as a US solution, essentially relies on Amazon Web Services as its cloud infrastructure, whereas Bare.ID uses SysEleven's Managed Openstack, which is provided in Germany, as its infrastructure. Compared to its US competitor, Bare.ID hosts exclusively in Germany, with multiple redundancy and geo-redundancy that complies with KRITIS regulations. The multiple redundant setup of Bare.ID guarantees an availability of 99.9% in every tariff, which allows a reliable deployment regardless of tariff level. Auth0, on the other hand, only offers availability SLAs for custom enterprise tariffs and above, thus limiting smaller providers in their reliable use. Another strong differentiation is that Bare.ID uses the established IAM open source framework Keycloak at its core, extended by its own user interface and numerous features. Since it is always beneficial in IT security to use established standards and open source libraries whenever possible, Keycloak is a solid foundation. However, companies often have difficulty hosting such security-related software on their own and actively seek Keycloak-as-a-Service. In addition, with Bare.ID there is no vendor lock-in, which means that data and configuration can simply be taken with them in the event of a desired change of provider.
Data protection and compliance
Companies in the European, especially German-speaking area are subject to the strict GDPR guidelines and industry-specific regulations. GDPR-compliant use is only possible if technical measures ensure that personal data either only leaves the EU in encrypted form or other organizational measures prevent it from being evaluated. In the case of logins and identity management, however, this is almost impossible, since in order to perform a login or manage the identity, this must be available in plain text at the provider hosted in the third country. The GDPR-compliant use represents the most relevant differentiation of the providers, in contrast to the US provider Auth0, only Bare.ID offers GDPR-compliant cloud service. In addition, Bare.ID already maps legal and industry-specific security requirements in its basic configuration and can therefore be used in a compliant manner even in highly regulated areas.
MFA variants
Auth0 and Bare.ID offer different authentication methods, which can be activated as needed. From basic methods such as OTP via email, SMS or Authenticator app, to WebAuthn and passwordless authentication, the two providers offer a wide range. However, Bare.ID offers a choice of all available MFA methods in every tariff, while Auth0's tariffs under Enterprise only include Authenticator App MFA. In addition, Bare.ID enables the cell phone or Windows based multi-factor authentication "Secure Login for Web Services" of secunet Security Networks AG for passwordless authentication, which fulfills all current legal security requirements, complies with BSI guidelines and is the leading provider on the German market in this environment - without integration efforts and can be activated with one click.
Support
As SaaS solutions, both Auth0 and Bare.ID offer dedicated support as well as implementation assistance. However, as a German company, Bare.ID support is available to customers in the same language and offers first-class support at European working hours compared to Auth0.
Conclusion
As explained at the beginning, the most crucial differentiation between the two providers is that Auth0 cannot be used as a GDPR compliant cloud service, while Bare.ID realizes digital sovereignty. This difference is so crucial as the requirements for IT security, both in the private and public sector, have drastically increased in recent years due to various regulations and the need for German-certified partners in the software environment has increased due to various resolutions. As also mentioned in our article on Zero Trust architecture (link), a strengthening of the domestic economy, especially in the cloud environment, is being pushed by the Federal Ministry of the Interior. In addition, especially in the environment of critical IT infrastructure (KRITIS), only providers with controlled German or European origin are to be used in the long term and a solution like Auth0 would not be sustainable at this point.
Learn more? The Bare.ID team of experts is ready to assist you with experience and advise you on how our solution can fit into your IT environment. Simply make a non-binding consultation appointment via our contact form and our team will get in touch with you as soon as possible.
---
Bare.ID represents user-friendly Identity & Access Management in the cloud. With Bare.ID, digital business processes and applications can be connected to a local user directory, benefiting from centralized security and Single Sign-On. Whether On-Premise, Hybrid, or Cloud, Bare.ID offers a multitude of pre-configured integrations. 100% security, Made in Germany.
Bare.ID's offerings are exclusively intended for business customers in accordance with §14 BGB. All prices are to be understood as net prices, plus applicable VAT at the time of billing.
Bare.ID is a product and registered trademark of Bare.ID GmbH - an AOE Group company © 2023 - All rights reserved.