[SOFTWARE COMPARISON]
Comparison Cidaas vs. Bare.ID - the Cidaas Alternative
Digital sovereignty in IAM: The two leading German SaaS providers Cidaas and Bare.ID in comparison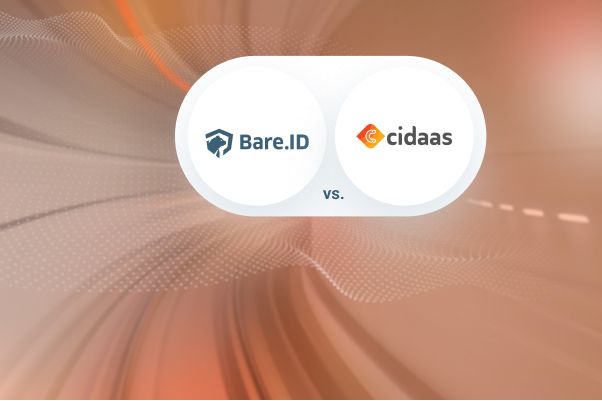 Cidaas is a German provider for identity and access management in the cloud and offers a similar solution to Bare.ID. Both function as SaaS solutions with a broad range of functions and different tariff models depending on the intended use, but the providers differentiate themselves primarily in their target group. Cidaas specializes in customer identity and access management (CIAM), which means that the solution is used to identify end customers. The functional scope of Cidaas is tailored to this use case in order to make the registration and identification of digital users as user-friendly as possible, yet secure for an optimal customer journey.
In contrast to Cidaas' CIAM focus, Bare.ID as an IAM is primarily focused on employee and partner authentication and management. Both the functional scope and the tariff models are optimally tailored to this target group in order to secure login and authentication processes company-wide, to offer employees time savings through user-friendly single sign-on and at the same time to improve the IT security of companies.
In principle, both providers can also map the other use case, but then they do not offer an optimal solution. In addition to standard functionalities such as single sign-on, both providers have integrated a variety of multi-factor authentication procedures, with Bare.ID offering an additional form of authentication via protect4use app as a partner of secunet Security Networks AG. Among other things, protect4use offers a passwordless authentication option and is currently the leading and most secure provider on the German market in this field. In the following, we will take a closer look at the extent to which Bare.ID differentiates itself from Cidaas and positions itself as a stronger provider in the IAM environment.
Hosting & Operations
Cidaas relies on German or European cloud infrastructure such as StackIT or the Open Telekom Cloud and Bare.ID relies on managed Openstack provided in Germany by Syseleven. A strong differentiation is that Bare.ID uses the established IAM open source framework Keycloak at its core, extended by its own user interface and numerous features. Bare.ID operates dedicated clusters per customer and guarantees its own cryptographic keys. Since it is always advantageous in IT security to use established standards and open source libraries whenever possible, Keycloak is a solid basis. However, companies often have difficulty hosting such security-related software on their own and actively seek Keycloak-as-a-Service. In addition, with Bare.ID there is no vendor lock-in, which means that if a company wishes to change vendors, data and configuration can simply be taken with them. Both Bare.ID and Cidaas operate the SaaS according to the highest security standards and promise guaranteed availability in the paid tariffs.
Application Gallery
Both SaaS solutions support standard protocols such as 0Auth2.0, OpenID Connect and SAML to connect applications. Bare.ID also offers a RADIUS adapter for enterprise infrastructure such as WLAN or VPN. In contrast to Cidaas, the Bare.ID side configuration of the applications to be connected takes place automatically via the application gallery available in the admin interface. This contains all necessary applications preconfigured and allows them to be connected with just a few clicks. If users still miss an application in the overview, it can be added quickly and free of charge by the Bare.ID development team on request. As the managing administrator, all required applications can thus be connected quickly via a central location without any further integration effort.
Pricing
As mentioned at the beginning, Bare.ID is the leading provider as an IAM solution in the corporate and partner context, while Cidaas CIAM specializes in end customers as users. This differentiation is also reflected in the plans, as Cidaas offers a choice of plans only in the CIAM context. To use Cidaas as an IAM solution there are only 2 options available, either a highly restricted free version that cannot be used reliably in a professional environment or a standard tariff with all features and a test environment. Bare.ID, on the other hand, is offered in 4 plans in order to optimally align the range of functions and service to the customer's needs. Whether it is compliance with geo-redundancy according to the BSI Criticality Ordinance, individual identity sources in external IAM systems, CRMs and the like, or additional development services, the Bare.ID plans Basic, Professional, Premium and Custom offer the best possible price-performance ratio for every need.
Conclusion
Bare.ID and Cidaas are both good and secure providers, which stand out in comparison to international competitors especially due to their GDPR compliance due to European or German hosting and operation. In the IAM area, however, Bare.ID offers overall more possibilities for individualization through tariffs and add-ons, the more resilient basis through Keycloak and less workload through uncomplicated setting options in the admin interface as well as the application connection via the preconfigured Application Gallery.
Learn more about Bare.ID? Our team of experts will be happy to assist you with their experience and advise you on how our solution can fit into your IT environment. Simply make a non-binding consultation appointment via our contact formand our team will get in touch with you as soon as possible.
---
Bare.ID represents user-friendly Identity & Access Management in the cloud. With Bare.ID, digital business processes and applications can be connected to a local user directory, benefiting from centralized security and Single Sign-On. Whether On-Premise, Hybrid, or Cloud, Bare.ID offers a multitude of pre-configured integrations. 100% security, Made in Germany.
Bare.ID's offerings are exclusively intended for business customers in accordance with §14 BGB. All prices are to be understood as net prices, plus applicable VAT at the time of billing.
Bare.ID is a product and registered trademark of Bare.ID GmbH - an AOE Group company © 2023 - All rights reserved.